Product Detail
Product Tags
Grade:
carbon steel, Hot rolled sheet and , cold rolled sheet
Thickness:

0.5-8mm
Width:

less 1.5m
Length:

0.1-4m
perforated area percent:

from 7% to 83%
1.Characteristics of perforated metal mesh
1. Can be readily formed
2. Easy installation
3. Can be painted or polished and anodizing.
4. The thickness of materials is wide range from 0.3mm-8mm.
5. Largest selection of hole size patterns and configurations
6. Attractive appearance,
7. Light weight,
8. Durable,
9 Superior abrasion resistances
10. Accuracy of size
2.specification
Material: low carbon steel,stainless steel,copper,Aluminum, nickel plate.
Pattern:round hole,square hole,slot hole,hexagonal hole,decorative pattern,embossed material
Features:flat surface,smooth ,beautiful,durable and has a wide range of application.
Processes: perforating, flattening, rolling, cutting, bending, edging, welding and finishing.
Product name

Perforated metal roll

Material

carbon steel: cold roll hot roll

Aluminum:1060/3004 H14/5052-H32/6061-T4. 

stainless steel plate:201,202,304,304L,316,316L,321,310S,410,410S,430

Thickness

0.3-2mm

Hole shape

Round, Square, slotted, Hexagonal, Decorated, Rectangular, Triangle, 

Diamond, Cross; and other patterns according to your drawings or application requirement.

 

Mesh size

1220*2440mm,1200*2400mm,1000*2000mm or customized

Surface treatment

 

PVC coated

 

Powder coated

 

Anodized

 

Paint 

 Polishing 

Application 

HVAC: enclosures, noise reduction, grilles, diffusers, ventilation

Industrial equipment: conveyors, dryers, heat dispersion, guards, diffusers, EMI/RFI protection

Features 

 

can be formed easily

 

can be paint or polished

 

easy installation

 

attractive appearance

 wide range of thicknesses available

 largest selection of hole size patterns and configurations

 uniform sound abatement

 light weight

 durable

 superior abrasion resistance

 accuracy of size

Package

 

On pallet with waterproof cloth

 

In wooden case with waterproof paper

 

In carton box

 

In roll with woven bag

 In bulk or In bundle

Certification

ISO9001:2008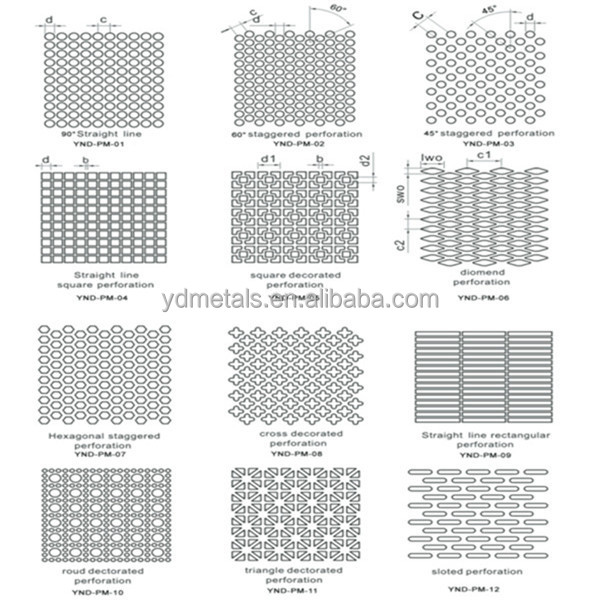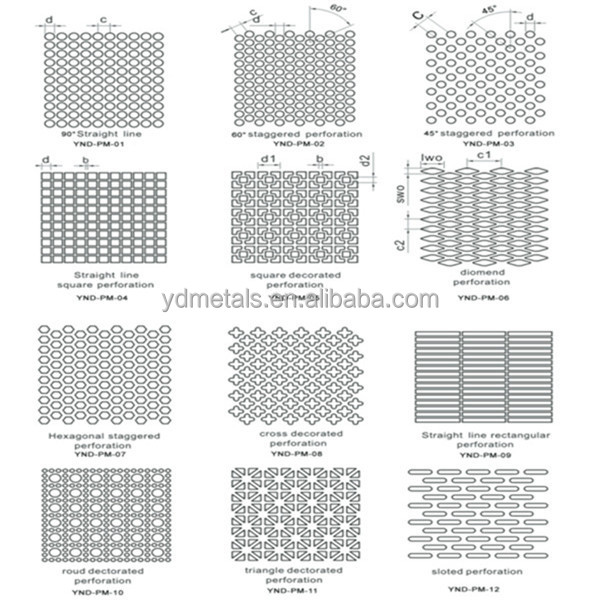 3.Applications
Include air diffusers for HVAC equipment, acoustical panels for noise control, components for water filters, and architectural elements. The uses for perforated aluminum are virtually unlimited. Also used for  Building Facades, Ceilings, Displays,  Enclosures, Fencing Panels, Fixtures, Flooring, Furniture, Grating, Guards, Infill Panels, Ladder Rungs, Partition Panels, Plant Screens, Platforms, Screens, Security Panels, Shelving, Stairways or Treads, Sunshade Panels, Walkways.
Perforated plate purpose: through different hole size, density and arrangement, to meet the equipment separation, screening, washing, filtering, ventilated, dry and heat, sound, purification, etc.

We offer perforated sheets with more options and less cost. Equipped with computerized-programmable feed systems, we will expand your custom design options.ur Perforated Sheet is available in the following patterns:
Round, square, oblong, triangle, slot, hex, oval, diamond and a broad variety of special shaped holes. We have tooling available for many different hole patterns and shapes. It is more economical to choose one of the available patterns, although special hole sizes and patterns can be accommodated at additional cost. 
5.packaging details
 1) Wrapped in waterproof paper then covered by plastic cloth. 
2) According to customer's requirement  
---
Previous:
Barbed wire fence
---